WhatsApp is now accessible both on your phone and your computer and someone could be reading and even be seated somewhere responding to your WhatsApp messages using it.
Most of us are using WhatsApp messenger on our smart phones but may not tried using the WhatsApp web.
WhatsApp Web is a computer based extension of your WhatsApp account on your mobile phone or tablet; any action you take on the phone will reflect on the WhatsApp Web and vice versa because the phone and the computer are fully synced.
Now the danger tied to this…
Anyone with access to your phone and their laptop or computer at hand, both connected to internet, can open your WhatsApp on their computer.
Note that WhatsApp web is not another WhatsApp account and when he/she manages to open your WhatsApp on their computer with the help of your phone, they would simply be accessing the same account on their device.
The malicious individual seeking to snoop into your conversations, from then on, can access your WhatsApp account wherever, whenever provided your mobile data is on or your phone is connected to WiFi.
This automatically breaches your privacy and in the worst case scenario, you become a victim of identity theft if the cyber-criminal decides to to start or respond to your conversations without your knowledge.
How to avoid this…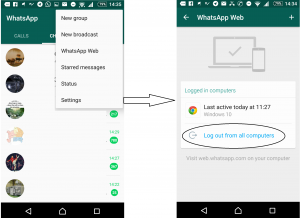 First you need to understand what you need to set up your WhatsApp Web. Below are the basic requirements and how to get started as listed on the WhatsApp Web FAQs:
The basic requirements to enjoy WhatsApp Web include:
You need to have an active WhatsApp account on your phone.
You need to have a stable internet connection on both your phone and your computer.
You need to use the latest version of Chrome, Firefox, Opera, Safari or Edge as your web browser on your computer.
How to get started with WhatsApp Web
Visit web.whatsapp.com on your computer.
Open WhatsApp on your phone.
On Android: in the Chats screen > Menu > WhatsApp Web.
On Nokia S60 and Windows Phone: go to Menu > WhatsApp Web.
On iPhone: go to Settings > WhatsApp Web.
On BlackBerry: go to Chats > Menu > WhatsApp Web.
On BlackBerry 10: Swipe down from top of the screen > WhatsApp Web.
On Nokia S40: Swipe up from bottom of screen > WhatsApp Web.

3. Scan the QR Code on your computer screen from your phone.
To be safe, first, open your WhatsApp application on your phone then go to the WhatsApp web option using the procedures above with respect to the type of phone you are using then select 'Log out from all computers'. This helps to deny access to anyone who may have managed to trick you as explained before.
Secondly, always lock your device with a personal identification number (PIN ) or password which activates within the shortest time possible when idle.