Kenya is on the top 20 list of countries most affected by spam calls, a majority of which are originated by fraudsters, caller ID application TrueCaller has disclosed in a report.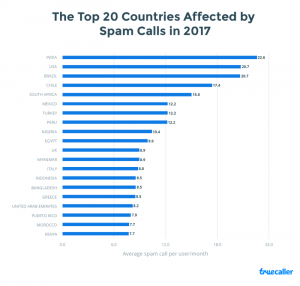 More than nine out of every 10 (91 per cent) of calls flagged by users and TrueCaller are made by con men, the TrueCaller report says.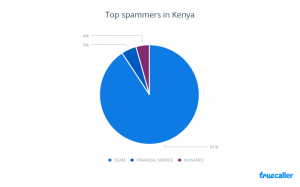 "Scam calls are basically fraud attempts via your telephone, with scammers using a phoney scheme to swindle money from unsuspecting members of the public," said the report.
Users of the app receive on average 7.7 spam calls per month categorised as scam, financial services and nuisance calls.
"The data was aggregated anonymously from incoming calls marked as spam by users, automatically flagged by Truecaller during the period of January 1 and May 31, 2017 to understand the monthly average spam rate. During this period, our users received over 5.5 billion spam calls," said the report.
It ranked the top 20 countries affected by spam calls in 2017 which included India, the US and Brazil as well as South Africa, Nigeria, Egypt, Morocco and Kenya.
According to TrueCaller, there are common categories that tie all spam calls together, with some of the most common being local scam calls, telemarketing and debt collection calls, and unsolicited finance and insurance product offerings.
Unlike Kenya and Nigeria, South Africa only has one per cent of its local calls marked as scam calls.
Adapted from Business Daily